Hands-on demo FAQs
Setting up the hands-on demo
The C&P hands-on demo is yours for 30 days to explore, discover, and love. There's no limit to what you can do. A few minutes of setup and you're ready to go.

The hands-on demo is the real thing -- the complete Clients & Profits software. For the next month you'll have full, unlimited access to everything it does. Open jobs. Set deadlines. Build estimates. Define a creative brief. Get daily status reports. Track hours. Bill clients. And much more. You and your staff can explore every feature and function to learn how well it fits in your agency. So give it a good ride and you'll see how well it'll help you work.

About the demo database You'll be using an example database during your hands-on demo. This database has a small set of clients, jobs, and staff members as well as some sample purchase orders, vendor invoices, client invoices, and financial accounting entries. It has been created so that you don't have to set up anything on your own -- you can jump right into tracking jobs, estimates, traffic, time, expenses, and billing now. Everything you enter into the demo database will be cleared if you choose to use Clients & Profits and start your own database.

Here's how to get started:

1 Start by downloading the Clients & Profits desktop software, if you haven't done so already.

2 Open the Clients & Profits installer, then follow the prompts.

You'll now see the Login window, which connects you to your demo database in the cloud: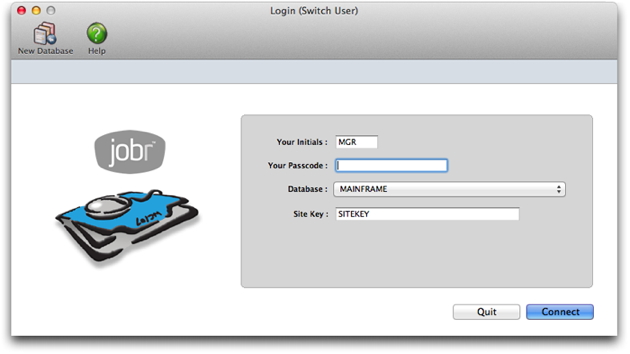 3 Click on the Database drop-down menu and choose MAINFRAME.

4 Enter your site key (e.g, DEMO1234W) from the email you received from Clients & Profits Sales. If you don't know your site key, call (800) 272-4488

5 Enter your initials as MGR, then click Connect.

A set of typical user accounts are included in your demo database. Each user account has different permissions that control what they can and can't do in Clients & Profits. The user account MGR is the standard system manager account, which can do everything. You can log in using different user accounts to experiment with how permissions apply to production staff, accounting staff, creatives, and management. None of the user accounts in the demo database have passwords.

Congratulations! You're now connected to your demo database in the cloud on the C&P MAINFRAME server.