MAINFRAME

Your database, in the cloud. Available anywhere, anytime you need to get things done. Protected in a secret vault in an underground bunker within the secret lair of the C&P MAINFRAME. Nothing to back up, zero maintenance. We're on it, 24 hours a day.
Smart Timer
The clock's ticking. Track your time with a preloaded pop-up timer that follows you, and makes keeping time almost effortless, and forgetting to keep it almost impossible.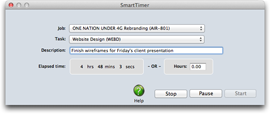 Click Time Card

Time is on your side. Your time card automatically lists all the tasks you're assigned to - with nothing to enter. Just click on the task, enter the hours and bam! - you're done.
Production Calendar
One day (week, or month) at a time. All open jobs and tasks with all deadlines across all clients (or customize to just those you work on). View by month, week or day. Publish as read-only to iCal or Google Calendar for staff to subscribe to.
New Job Checklist

Be prepared. No blanks to fill in later. The New Job Checklist supplies a defined set of steps (you can use the pre-loaded list or customize your own) that prevents a job from starting production until each step is marked as complete.

A Hybrid Desktop/Web App

The next-generation Clients & Profits is based on an innovative hybrid architecture that pairs the power and usability of desktop software with the flexibility and accessibility of a modern mobile app. It gives power users an expansive, customizable desktop experience but gives everyone else a clean, simple, browser-based web app for their day-to-day work. It's the best of both user experiences and exclusively in the Clients & Profits cloud upgrade.
Refreshed Reports

Numbers can be pretty, too. Every standard report in Clients & Profits has been redesigned for easy readability - with all your favorite reports able to be bookmarks then printed later without having to reenter the selections and options.
User Roles

Know your role(s). Predefined user roles, settings, and permissions make adding new staff members much less tedious. The pre-loaded parameters are based on standard agency job descriptions - and can be customized to fit yours. Get your people up and running (and productive) in a fraction of the time.
Insta-jobs

Presto! Client wants a new job now? It's insta-job easy: choose a client, name the job, then pick a template. Boom — the job is open and ready to go.
Creative Phases

Evolutionary. Jobs are split into creative phases to easily track time, costs, and deadlines based on the level of completion - and find where your bottlenecks are.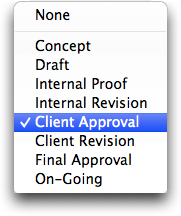 Client Project Pipeline

The Pipeline keeps clients in the loop. It arms your client status meetings for battle. There won't be a question you can't answer because everything they'd want to know about their projects is right there, front-and-center. Unlike a printed report, the Pipeline is interactive — it'll take whatever changes you throw at it. Go ahead, change anything. Whatever you do updates traffic in real-time.
AE Project Status

Acct execs everywhere love the Job Snapshot. Now there's more to love. This interactive report takes a snapshot of every job in progress and builds a Google Earth-like view of their client projects. Talk about being in-the-know, this is it.
Clip Notes

Stick it and click it. Tag jobs, POs, media plans, invoices, checks — just about anything — with a virtual sticky note. Clip notes carry on the conversation because they're shared with everyone who uses the C&P desktop app. It's collaboration without the clutter. And they never get lost.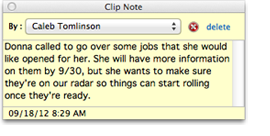 Smart Lookups

Lookup lists now remember where you were and what you were doing. They can be moved around, resized, and memorized at your will. They want to help and it shows. They don't read your mind (yet) but it seems like it.
Reimagined User Experience

The UI is all new, bright and shiny. We think it's the most usable Clients & Profits ever. The windows are bigger and more information-rich but graphically fresher and cleaner. It takes fewer clicks to get work done. It's less code-y and number-y which makes it easier for new users. Things auto-complete so there's little to memorize. Windows remember when you moved them so really take advantage of big monitors.
Bookmarks

Save it for later. Save it for reports you print often. Save it for jobs, for invoices, for anything you don't want to forget about.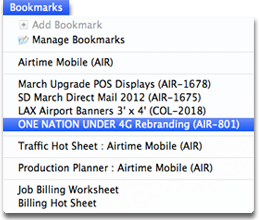 WINNERS DO TIME

How do you make something tedious into something fun? Prizes, of course! Here's how to get rewarded for keeping perfect time — and motivate others to do the same. Every week your timely time card is automatically entered into a drawing for amazingly creative prizes chosen by the crack C&P prize committee. Two winners are chosen at random. We take care of everything — free. Hey, you may already be a winner. But it's win-win for everyone.
Weekend and Holiday Upcharges

Working weekends and holidays? Cha-ching! Clients can be automatically uncharged 1.5X or 2X for all those rushed jobs.
One-click Time Approvals

The week's unapproved time is front-and-center in the redesigned Time Sheets window. It's grouped by staff member, so it's a e-z glance and a click to ok the hours for billing. Boom, done.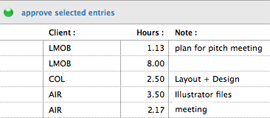 Missing Time Worksheet

Perfect timing. Review and approve multiple time sheets and expense reports by department - with one click. Staff members can be notified by email automatically if any problems with time entries are found. The Missing Time Worksheet compares planned hours with actual hours and highlights anything missing.
Shared Customized Reports

Sharing is caring. Any report in Clients & Profits can be tailored with fonts and styles then shared throughout the agency. There's nothing to install or configure. The customizations you make will appear automatically to everyone any time a staff member prints that report.